INFORMATION FOR PRIVATE DONORS
With your donation, you enable seriously ill or traumatized children and young people to receive therapeutic support, new hope in crisis situations and carefree moments.
The Lichtblickhof is financed 100% by donations.
We depend on your support!
There are different packages with which you can donate smaller and larger rays of hope:
PLEASE DO NOT HESITATE TO HELP WITH YOUR CONTRIBUTION RIGHT NOW HERE > THANK YOU
Every donation makes an important contribution to our daily work!

We are particularly helped by regular donations.
We would be very pleased if you would spread our concern among your friends and acquaintances, according to the motto: together we can simply achieve more!
We say

for your support
IMPORTANT INFORMATION FOR PRIVATE DONORS
IBAN AT22 3200 0000 1105 2255
Important information about the tax deductibility of your donation
Your donation is tax-deductible according to the donation beneficiary notice § 4a Z. 3 and 4 EStG of the BMF (Finanzamt Wien 1/23), our BMF registration number is SO 2184.
If you wish, your donations will be included in the automatic employee assessment in the following year.
You can no longer report your donations to the tax office yourself. We have to take over this task for you.
For the report to the tax office we need from you In front- and surnames (The spelling must match the Central Register of Residents) and yours Date of Birth. In order to simplify our administrative work, it is advantageous to provide your address. You can unsubscribe from the tax office report at any time.
Here you can give us your data: Deductibility of donations
We ask for your understanding that donation receipts only on end of the year can be issued! But you are welcome to ask us how much you have already donated.
HERE YOU WILL FIND OUR MOST URGENT DONATION PROJECTS
WHICH ARE PARTICULARLY CERTAIN TO US.
Unfortunately, the remaining time is always decisive,
to be able to do a lot of good for those affected.
SOS PROJECTS
URGENT
SPEND
SOUGHT
ELISABETH
NEEDS
YOUR HELP
NOW!
FLORIAN
NEEDS
YOUR HELP
NOW!
CHARLOTTE
NEEDS
YOUR HELP
NOW!
PLEASE DO NOT HESITATE TO HELP WITH YOUR CONTRIBUTION RIGHT NOW HERE > THANK YOU
ANIMAL SPONSORSHIPS HELP US A LOT
IN FINANCING OUR ACTIVITIES

VOLUNTEER AT LICHTBLICKHOF
Support our work with your time!
Volunteer work at Lichtblickhof offers insight into our daily work. Our therapists have other jobs that secure their basic income. Nevertheless, the work on Lichtblickhof the most beautiful "task" in the world: We don't live from it, but for it! Working hours and conditions depend on the children and young people and our animals, which have to be taken care of every day and in all weathers. The financing of the therapies is always uncertain and scarce, the species-appropriate keeping of the horses is all the more expensive and time-consuming.
Voluntary work can take place in the context of helper events, stable work, but also in the context of therapy projects. We are happy to provide an overview of all necessary processes and activities in the entire company. The aim of our work is satisfied clients and animals who work together in a protected space. Short-term and short-term support is only possible during events. When working with children or animals, a commitment of at least four months is required, as we need to create a safe framework with predictable relationships.
About every two months there are information evenings about voluntary work on the Lichtblickhof instead of. As part of the information evening, we will then introduce you to the two- and four-legged team and can also discuss detailed questions. We ask that you register in advance volunteerwork@lichtblickhof. At
Helper events on Lichtblickhof 2022
Dates information evenings "voluntary work on Lichtblickhof"
If you are interested, please send us an inquiry and a CV volunteerwork@lichtblickhof. At to email.
BECOME A MEMBER:

IT JUST FEELS GOOD AND RIGHT!
Anyone who makes others happy is also doing something good for themselves, because a Lichtblickhof-
Membership helps to give seriously ill children and their relatives confidence and strength.


The Lichtblick membership enables seriously ill children and young people in crises to recharge their batteries in difficult everyday life, a spark of hope in great sadness and a smile between tears. With the Lichtblick membership
you can create an environment in which our therapists make ray of hope possible with the animals.
We are "development companions" for children and young people, so we bear a lot of responsibility. With your Lichtblick membership, you assume part of this responsibility and enable continuity for our children and animals.
Since children and animals in particular require hard, daily work and routine in order to get a sense of security, it is important that rhythm and consistency are provided for them at least here, because that is what they need most - a place to where they can put down roots, test themselves, are desired and find support.
Here, our children and young people recharge their batteries with the strength and courage to spread their wings into life and always have the opportunity to stop over.
YOUR ADVANTAGES:
♥ From an amount of €50 per month – there are of course no upper limits.
♥ You will receive an annual report once a year.
♥ You will receive a newsletter at least four times a year.
♥ Membership can be canceled at any time without giving reasons, a short email is sufficient.
♥ Payment via standing order.
♥ Membership is tax deductible as a DONATION!
We would be delighted if you would become a part of us!
A VERY SPECIAL GIFT IDEA:


GIVE A MEMBERSHIP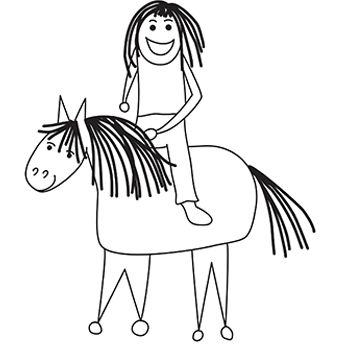 With a one-year Lichtblick membership you are sure to make a gift
something very special and valuable!
We are at your disposal for more information info@lichtblickhof. At!
We would also be happy to inform you personally and in detail about the various options and costs of membership.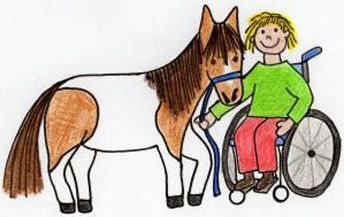 HERE YOU WILL FIND OUR MOST URGENT DONATION PROJECTS
WHICH ARE PARTICULARLY CERTAIN TO US.
Unfortunately, the remaining time is always decisive,
to be able to do a lot of good for those affected.
ELISABETH NEEDS YOUR HELP NOW


PROJECT DONOR OD. SPONSORSHIP WANTED
What is worth living for! Elizabeth is terminally ill. Since she was born, she has spent more time in the hospital than in her childhood room. Elizabeth is nine years old. Happy hours are all that matters to them!

ELISABETH'S HEART IS STRONG YET SO FRAGILE!
The reason for Elisabeth's suffering is a severe congenital heart defect. Even after numerous operations, it is uncertain what else she has to deal with. But Elizabeth is strong. She has an iron will to live and draws strength from the happy hours with our therapy horses.
"Ever since the therapy mare Atacama from e-motion nudged my Elisabeth, my girl has been enjoying life.
That must not be lost ... please!" Elisabeth's mother has tears in her eyes: "Elisabeth lives with the horses for the time, that gives her so much strength!" Elisabeth urgently needs this strength, because the constant uncertainty about how things will go on and the many setbacks are hard to bear. When Elisabeth is with "her" therapy horses Atacama and Pipistrela, she is happy. This prepares them for the times in the hospital, for all the pain and fear.

Elisabeth is currently back in the hospital, her condition is critical. She wrote this letter to her beloved horses...
Thanks to our therapy, Elisabeth has the strength not to give up. But her parents are poor. Elisabeth needs you – now! With 2.650 euros, Elisabeth's therapy would be secured for a year! If 150 people give 18 euros each, we can fulfill the greatest wish of the terminally ill Elisabeth!
Please give Elisabeth happy hours!
Nine-year-old Elisabeth is a brave girl! Despite her serious, incurable illness, although she doesn't know what else is in store for her - Elisabeth wants to live. That was not always so. But thanks to the therapy with our horses, she has something worth living for. She is happy with the horses and the girl desperately needs this happiness! With only 18 euros you give a terminally ill girl the chance to feel happiness and to recharge her batteries! Here you can download the folder!
Image note: In order to protect the anonymity of our clients/children, the images are symbolic images.
If more donations are received than are needed for this project, these will benefit other e-motion projects.
FLORIAN NEEDS YOUR HELP

NOW


PROJECT DONOR OD. SPONSORSHIP WANTED
Florian will soon no longer be able to walk.
Unfortunately, this sad truth cannot be shaken. But we can delay the moment when that happens - thanks to Equotherapy!
Florian's parents realized early on that there was something wrong with their beloved son. However, the diagnosis destroyed all hope: Due to an incurable disease, Florian's muscles were already dwindling in childhood and would eventually fail. Florian fought so hard to walk. But barring a miracle, he'll soon need a wheelchair.
In order to delay this process, Florian would have to train a lot and hard. But even now he gets tired very quickly and cannot counteract the muscle atrophy.
Equotherapy, therapy with horses, helps Florian in two ways:
His muscles are strengthened and his mobility is retained for longer.

He is happy with the horses. From this he draws courage and new strength!
Thanks to equotherapy, Florian saves time!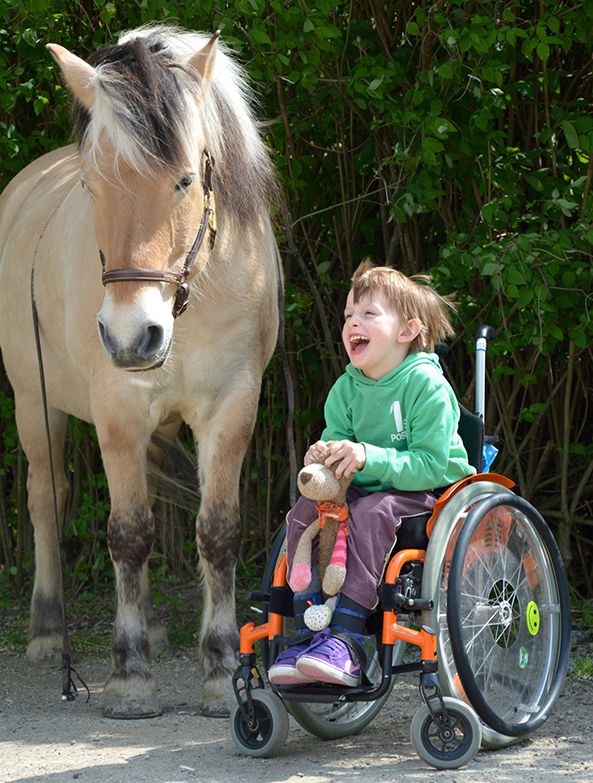 In the summer, Florian spends a week with us Lichtblickhof spent. And lo and behold: The muscle atrophy could be delayed by the therapy with our horses!Florian has so much happiness and joy in his stomach when he thinks of his therapy horse Daisy and the time at e-motion.Florian was so happy and motivated on the back of his Daisy that he didn't even notice how much strength he needed to keep his balance. Thus, an otherwise unthinkable muscle strengthening was possible.Now Florian needs your help!If Florian continues his therapy once a week from now on, his muscle strength can be maintained longer. The longer the therapy lasts, the more time he gains!
CHARLOTTE NEEDS YOUR HELP

NOW




Please give Charlotte a ray of hope!



"I wish I could fly, then I wouldn't be in pain!"
Charlotte is six years old and terminally ill. With every movement she has to be careful not to dislocate something. Osteoarthritis and severe pain plague the little girl every day. Charlotte's condition is due to a genetic, incurable disease called Ehlers-Danlos Syndrome. Her joints are hypermobile and are already so worn that she is struggling with osteoarthritis. Charlotte cannot and must not run, romp and jump. But even for painting or handicrafts she often lacks the strength because her fingers hurt so much. Therapy with our horses helps Charlotte a lot: she can let herself be rocked and relaxed on the back of the gentle mare Prinsessa.
Out of sheer enthusiasm, she forgets all her pain and recharges her batteries with a lot of strength and joie de vivre!
Charlotte is terminally ill and in constant pain, sometimes even when standing and sitting. At the age of six she already suffers from osteoarthritis. She cannot and must not run, romp and jump. Because her fingers hurt, she often cannot even draw. Our therapy helps Charlotte a lot.
Her greatest wish is to have a week of intensive therapy this summer Lichtblickhof close. With as little as 15, 20 or 30 euros you are making a significant contribution to Charlotte's urgently needed intensive therapy!
"Mom, it hurts so much...!" "Mom, it hurts so much...!" Some days even standing or sitting is torture for little Charlotte. At the age of six she is already suffering from osteoarthritis and severe pain.