Welcome to e-motion – Lichtblickhof
The Lichtblickhof is a unique therapy center that also enjoys the highest international recognition. It is a place of life for families whose child is affected by an incurable and life-shortening disease.
Despite the difficult fate, the 12-strong, multi-professional team of therapists and their 19 specially trained therapy horses manage to create moments of joy and give strength for the tasks that still have to be mastered.
As an experienced therapist and non-profit association, we accompany and help many children and young people in the difficult phases of their lives with our horses and therapy animals. The form of therapy specially developed by us - called "EQUOTHERAPY" - was originally only carried out with horses. We have further developed this therapy method and extended it to other animals.
The successes and the reactions of the children entrusted to us show that with this complex therapy work we can bring joy, courage, confidence and relaxation back into the lives of those affected.
Symbolically, "our" families and children have to struggle with "excessively heavy luggage". These challenges and strokes of fate are usually unimaginably large. In addition, it is often impossible to predict how such troubled times will develop or even last.
In such situations there are questions upon questions to which no one really has a clear answer.
No matter how difficult these circumstances may be, there is always hope because we are happy to contribute in a helping and therapeutic way. You are not alone with us.
We are happy to shake hands, and with our offer we make the confidence palpable. We also have the time to talk as well as to be silent or to swallow and cry.
Im Lichtblickhof but first and foremost we ensure unforgettable moments of happiness. A child's face can simply bury itself in the long, soft mane or let a large, warm horse's nose blow at it. Empathy and lived emotions lead to indescribable and lasting experiences that create strength and joie de vivre.
It is the most important concern of all of us to be there with our therapy animals for those people, to accompany and strengthen them, whose path in life is heavily burdened and often hopeless.
We the whole Lichtblickhofteam stand with their therapy animals for these values, achievements and experiences with all their hearts.
As a non-profit association TO THANK We would like to thank all supporters, donors, sponsors and volunteers for their tireless efforts and your help!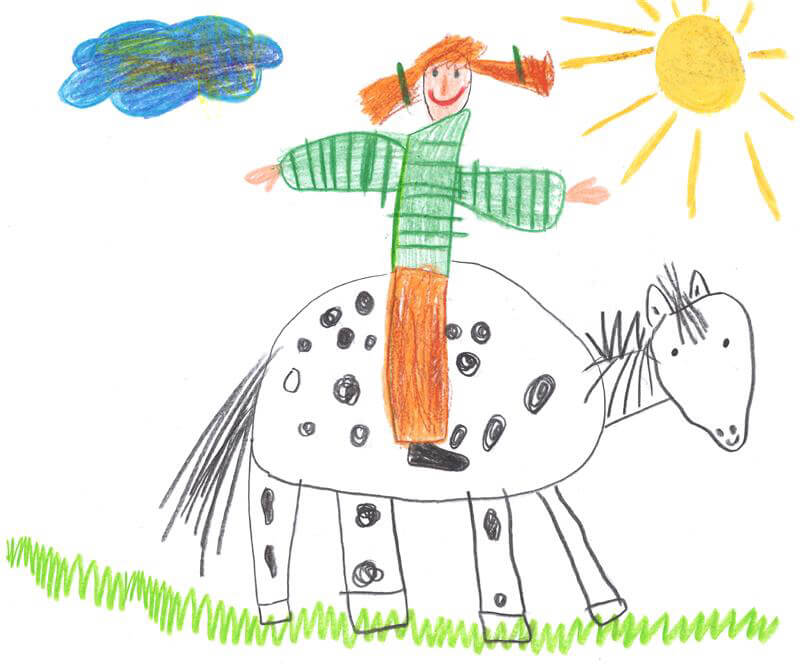 THE LICHTBLICKHOF WOULD BE UNTHINKABLE WITHOUT VERSATILE SUPPORT!
The e-motion association is a free association of therapists with the aim of being able to offer a very specific range of therapeutic services. We act and act as families, for whom the most important thing is cohesion and care for the children and clients entrusted to us as well as the animals. This attitude and our consistent implementation of these principles represent an essential part of the success of our entire mission.
In this sense, we are not only proud of what we have achieved, but also grateful that we were able to realize such an offer in the middle of a big city.
Our existence for families and children in need has always been possible only through private donors and sponsors from business and administration. In order to be able to help efficiently and sustainably, we as a non-profit and private association are absolutely dependent on financial, material and political support.
It is therefore our greatest concern to be able to maintain and continue all that has been achieved. The following should also be noted: In the subsequent use project of the Otto Wagner Hospital, we were able to further expand our day hospice, therapy and care facility in order to be able to offer even better conditions for the needs of those affected and their relatives.
In June 2022 we will celebrate the Opening of our hospice apartments on the Austrian children's hospice and palliative care day. We are thus expanding our range of therapies and our range of services for children with a life-shortening illness and their families by another important development step.
Address: Lichtblickhof Clinic Penzing, Reizenpfenninggasse 1a, house 10 A-1140 Vienna

The children's hospice Lichtblickhof with its many animals on site, is a facility for terminally ill children and young people that is unique in the world.
Thanks to our supporters and our dedicated therapists, employees and volunteers, it is only possible to offer and provide rays of hope, moments of happiness and solid therapeutic help.
We are also very grateful for that.
The association e-motion Lichtblickhof
The e-motion association was founded in 2002 as a private, non-profit association. A multi-professional team of now 15 therapists, supported by trained therapy horses and animals, does lovingly individual and needs-oriented work. The well-being, self-determined cooperation and therapy-specific training of the animals is best practice worldwide. Giving animals a say, appreciatively recognizing their special perception in their training is important to us.
Coping with life's great challenges is a strain on our families. Our goal is to open up new perspectives for them with the help of the animals, which give them relief, dignity, distraction and a task. The scientific development of knowledge about the active factors of animals in their healing influence on people confirms and improves our practical work continuously. Our greatest concern is the concept of One Health to expand further. One Health as an approach takes into account the connections between humans, animals, plants and the common environment. Environment, animals, plants and humans can support each other in their health, cross-species cooperation can result in an advantage for humans and animals.
The association e-motion is active at two locations, dem Lichtblickhof in Vienna on the grounds of the Penzing Clinic and the Lichtblickhof Forest/Lower Austria. With the opening of our hospice apartments in summer 2022, the next big step has been taken. Children and families now have the opportunity for longer periods of time Lichtblickhof to be accompanied and cared for in Vienna.
Our existence for families and children in need has always been possible only through private donors and sponsors from business and administration. As a non-profit and private association, we depend on financial, material and political support in order to be able to help.
The association is still run by a team of dedicated therapists. For the presidency of e-motion, Gundula Hauser, former president of the Int. Therapist. riding, be won.
We TO THANK them BOARD and the ADVISORY BOARD of the association e-motion for the active support of everyday life to make children happy:
Gundula Hauser
Mag. Roswitha Zink
Prof. Dr. Dagmar Schratter
Ingrid Weber
Mag. Verena Bittmann
Elizabeth Lehrner
Gerhard Albrecht
The invoice is checked by RBG Steuerberatungsbüro.
Fundraising and use of donations: Mag.a Roswitha Zink (management) and Mag.a Verena Bittmann (deputy management)
Data protection coordination: Valerie Glenk, BA, privacy@lichtblickhof. At
The association e-motion Lichtblickhof
Founding of the e-motion association
Foundation of the private and non-profit association e-motion by Mag. Roswitha Zink and Mag. Verena Bittmann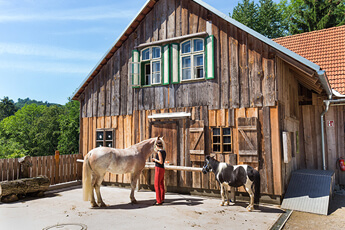 Der erste Lichtblickhof
Acquisition of a small dilapidated farm in Lower Austria, alias Steinbachhof Lichtblickhof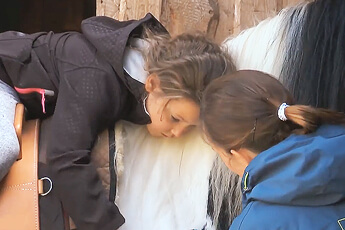 New location
First contract with the City of Vienna for the use of the premises in the Otto Wagner Hospital for equotherapy
Pegasus flies
This year we are organizing a major international symposium on horse-assisted therapy with Schönbrunn Zoo, Pegasus is flying!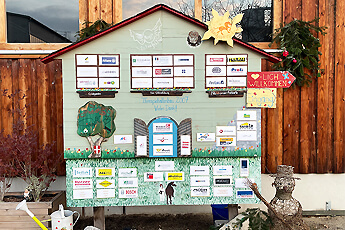 Beginning of the construction of a therapy hall THANKS to many small and large MIRACLES by the Krone readers and many committed construction companies
Opening of the therapy hall
Opening of the new animal-friendly barn and the weatherproof therapy rooms (financed by private donors, sponsors from the economy!!! as well as great commitment of the team from
e-motion and countless volunteers) - therapy hall, lounges, heated indoor therapy room for children with severe disabilities and limitations, stable, paddocks for the therapy horses
Research Project
Research project using video analysis on the non-verbal communication of horses and their use for therapy
Animal Welfare Award
Animal Welfare Prize of the City of Vienna
"Fressnapf helps" award goes to the e-motion association for life's work
License Agreement
City councilor Sonja Wehsely presented the e-motion association with a new usage contract for a further 10 years after 10 years - in the same year there was also a municipal council decision of ALL parties who, despite the upcoming changes in the Otto Wagner hospital, are committed to the importance and continued existence of horse therapy in the Otto-Wagner-Spital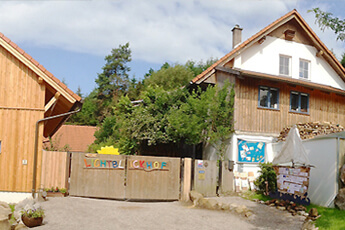 renovation of Lichtblickhofes and adopting the name for the entire project, which is now e-motion Lichtblickhof Vienna and Lower Austria means
The first specialist book on horse-assisted trauma therapy is published by Ernst Reinhard Verlag
New logo, certifications
New logo after adopting the name Lichtblickhof in "e-motion Lichtblickhof" for both Vienna and Lower Austria locations. Awarding of the "Donation Seal of Approval" and Greencare - Certification "Certified Farm"
Where are we standing
At present, 350 children and adolescents come for therapy every week; The now multi-professional e-motion team (psychotherapists, physiotherapists, educators, psychologists, social workers, biologists) offers comprehensive support tailored to the individual needs of children and families that is second to none - since e-motion was founded about 5000 families could be accompanied with the horses in the most difficult life situations!!!
The evolution LICHTBLICKHOF goes on continuously
We start and consistently implement the next development phase of our mission. Much new. Our range of services is expanding. In June 22 we open our hospice apartments on the Austrian children's hospice and palliative care day at the location Lichtblickhof Clinic Penzing, Reizenpfenninggasse 1a, house 10 A-1140 Vienna.
Our presence as a children's hospice will also be new, more innovative and more informative in the media.
These highly valued partners are the organizations without which we would also not be able to fulfill our tasks.
At this point we would like to say a special thank you for your support and help!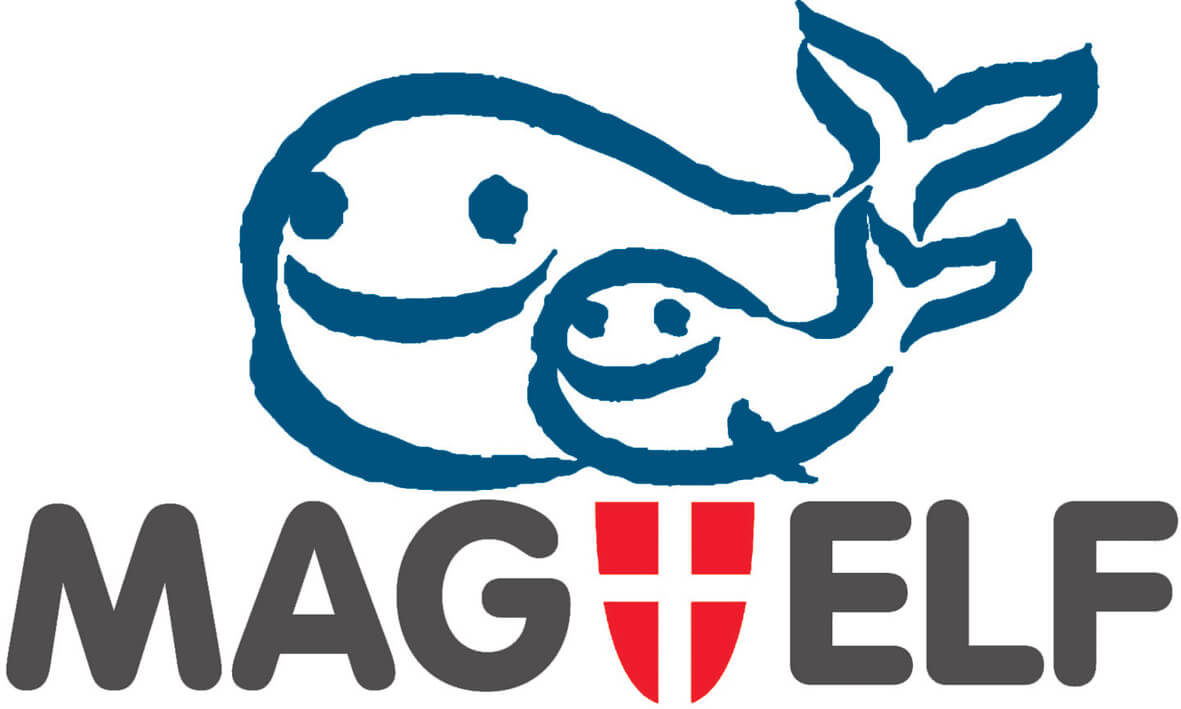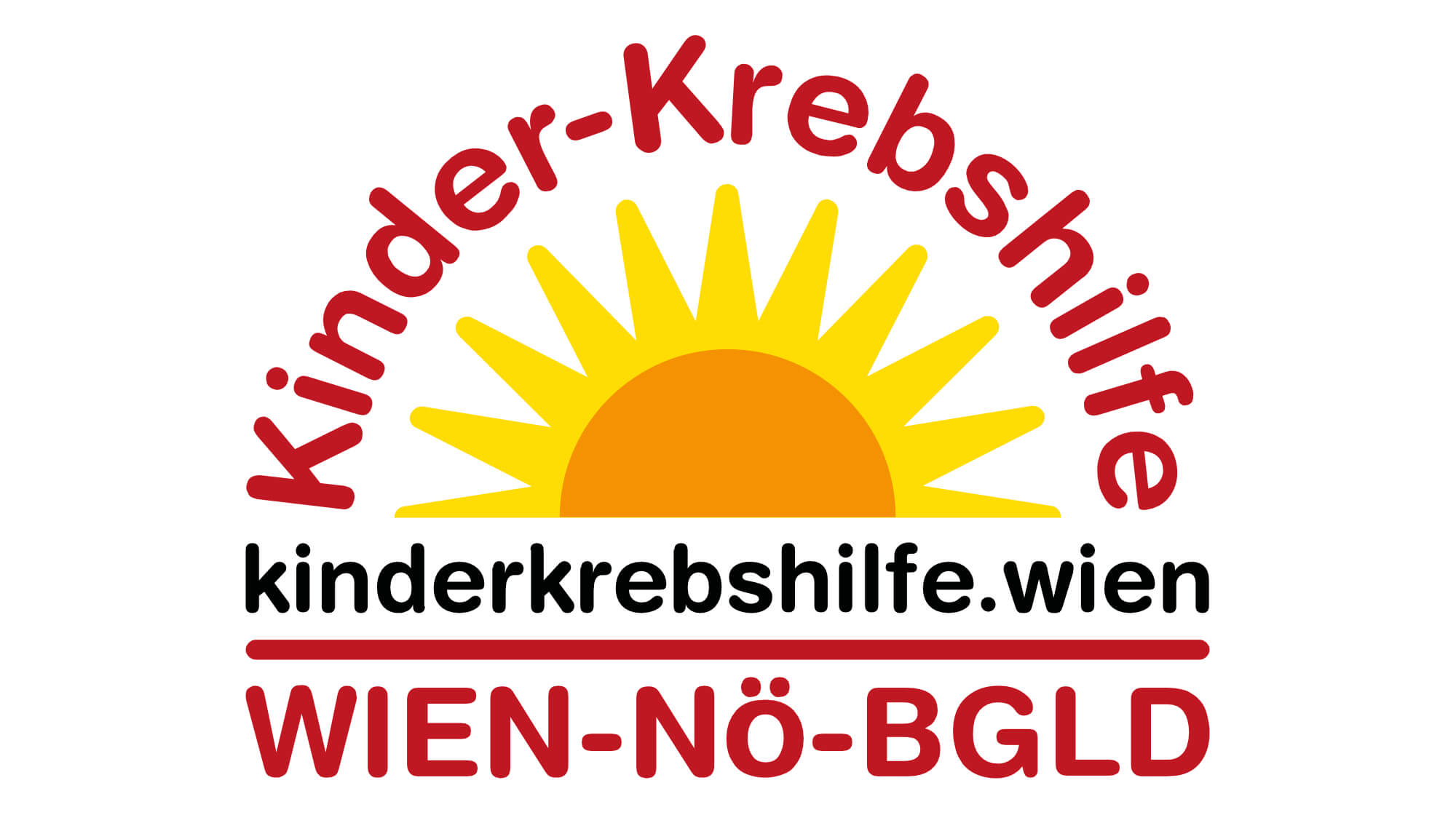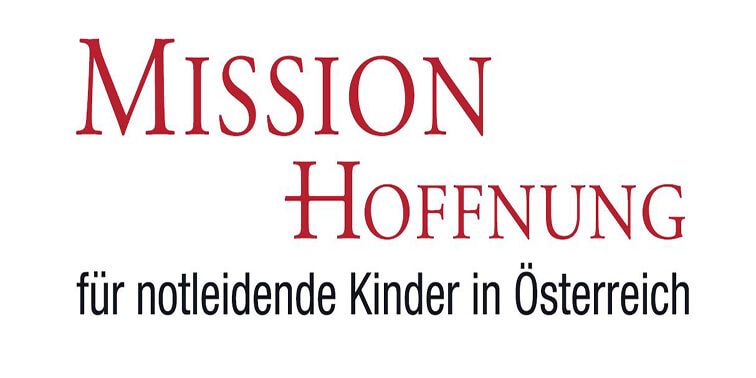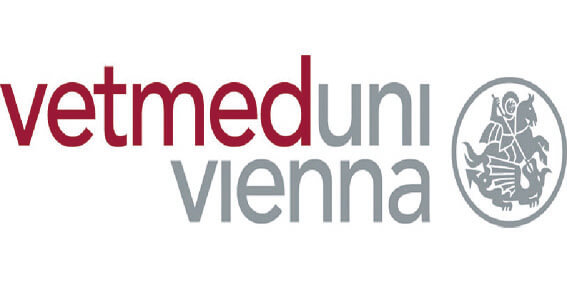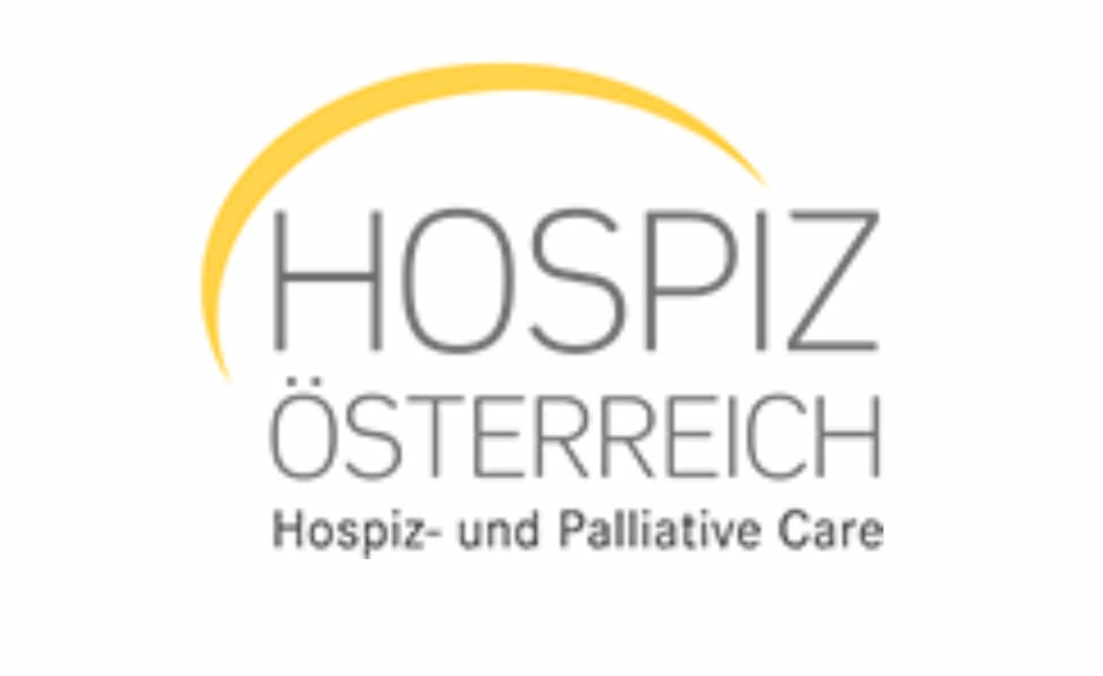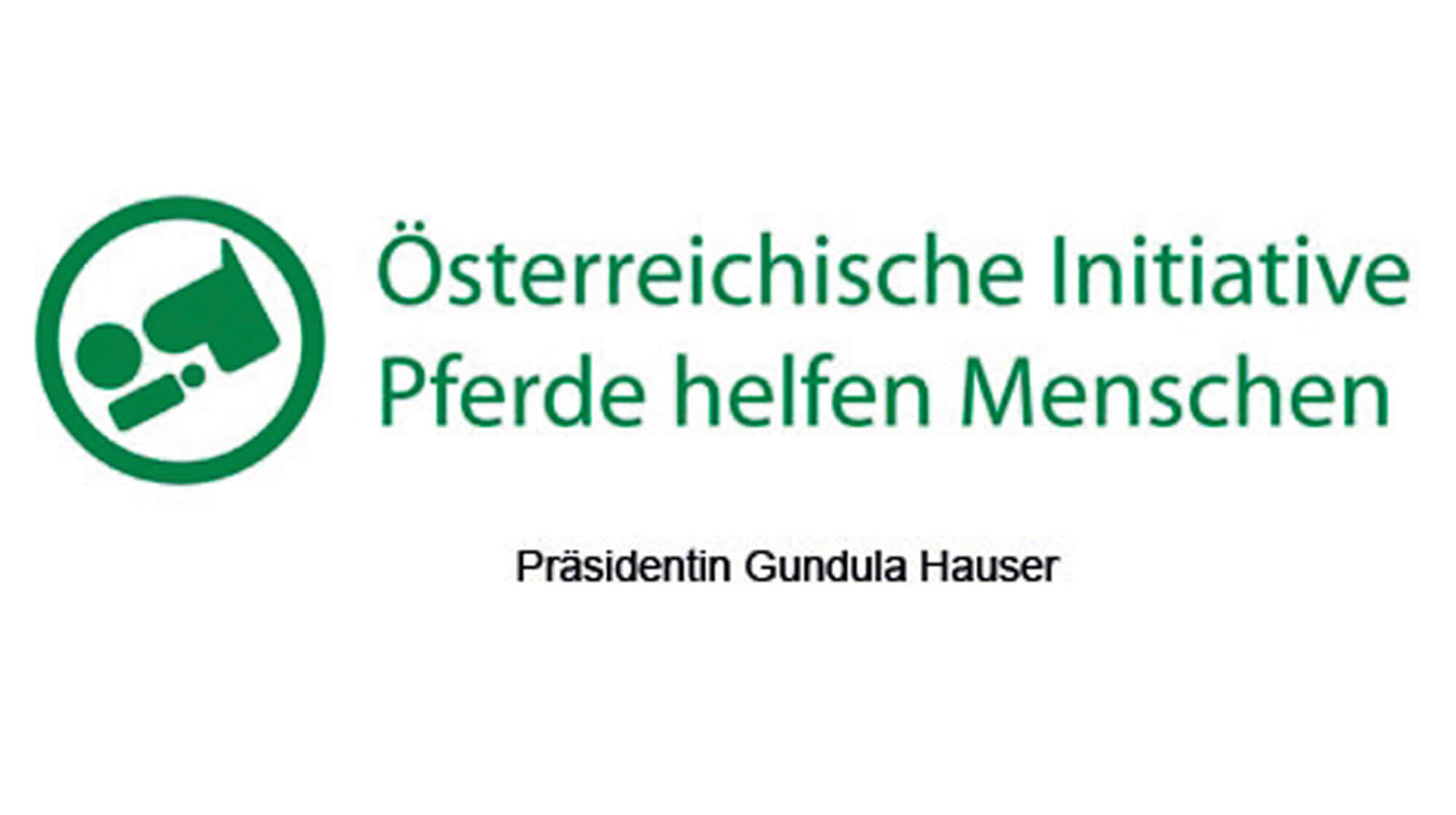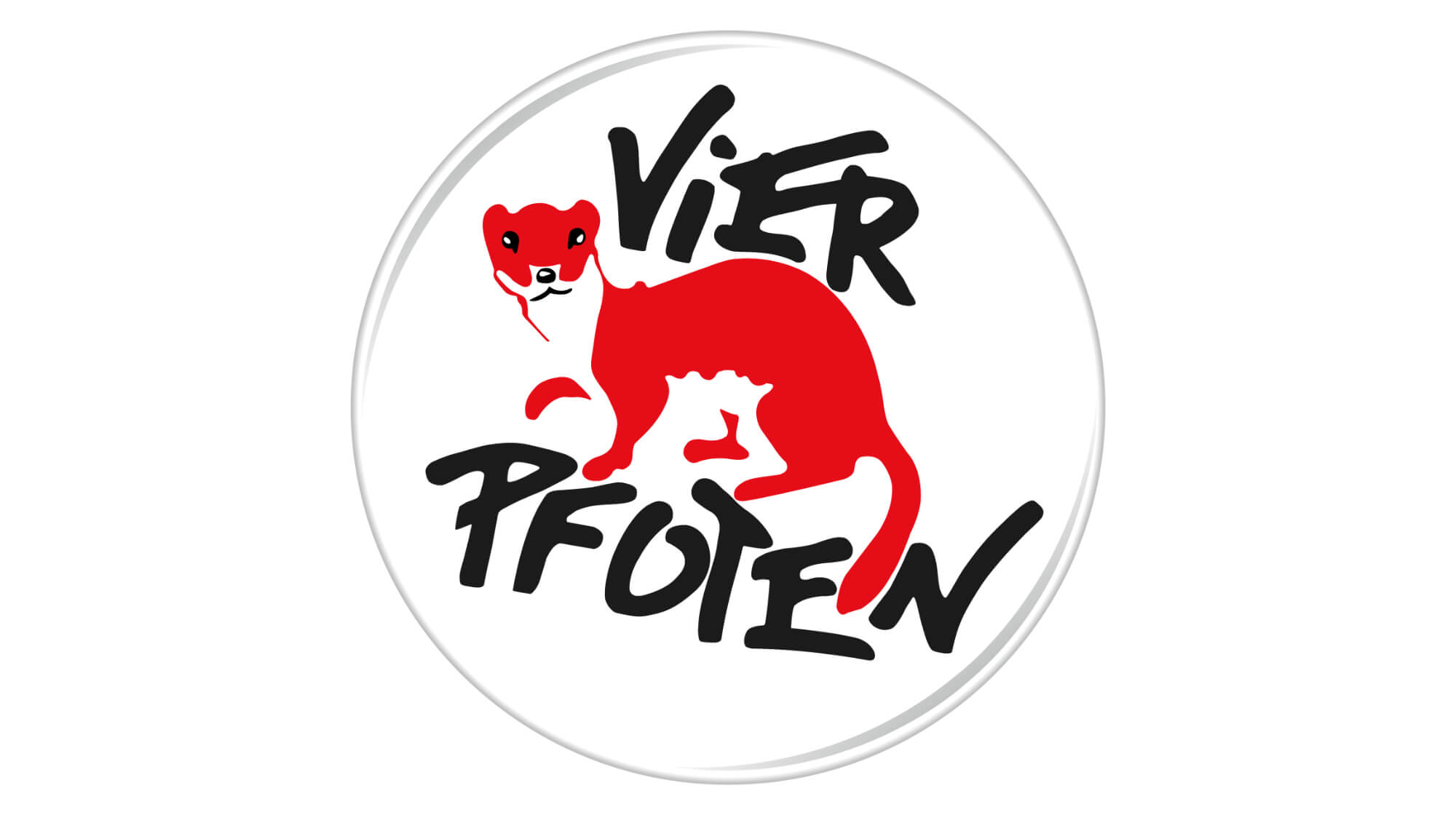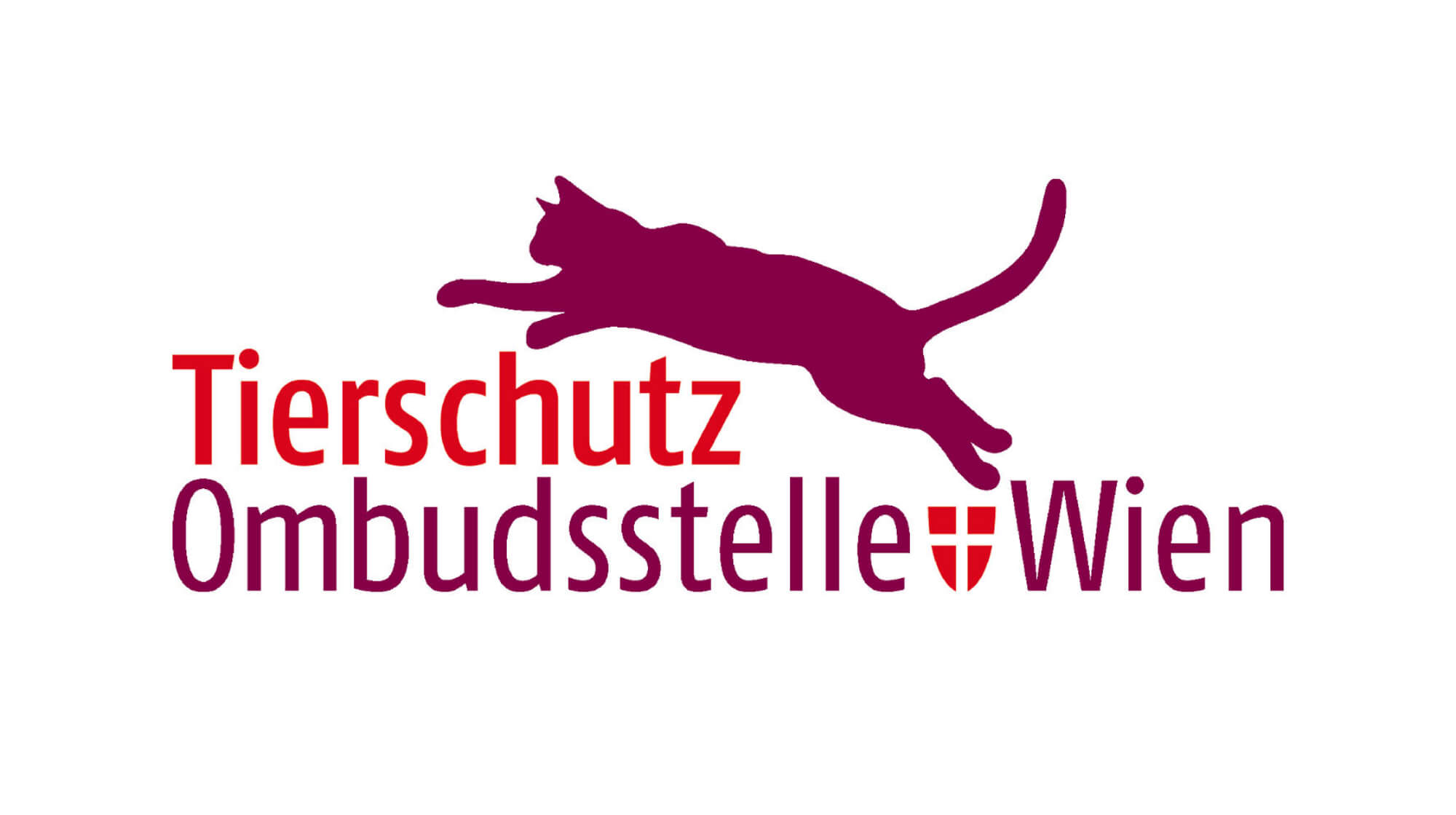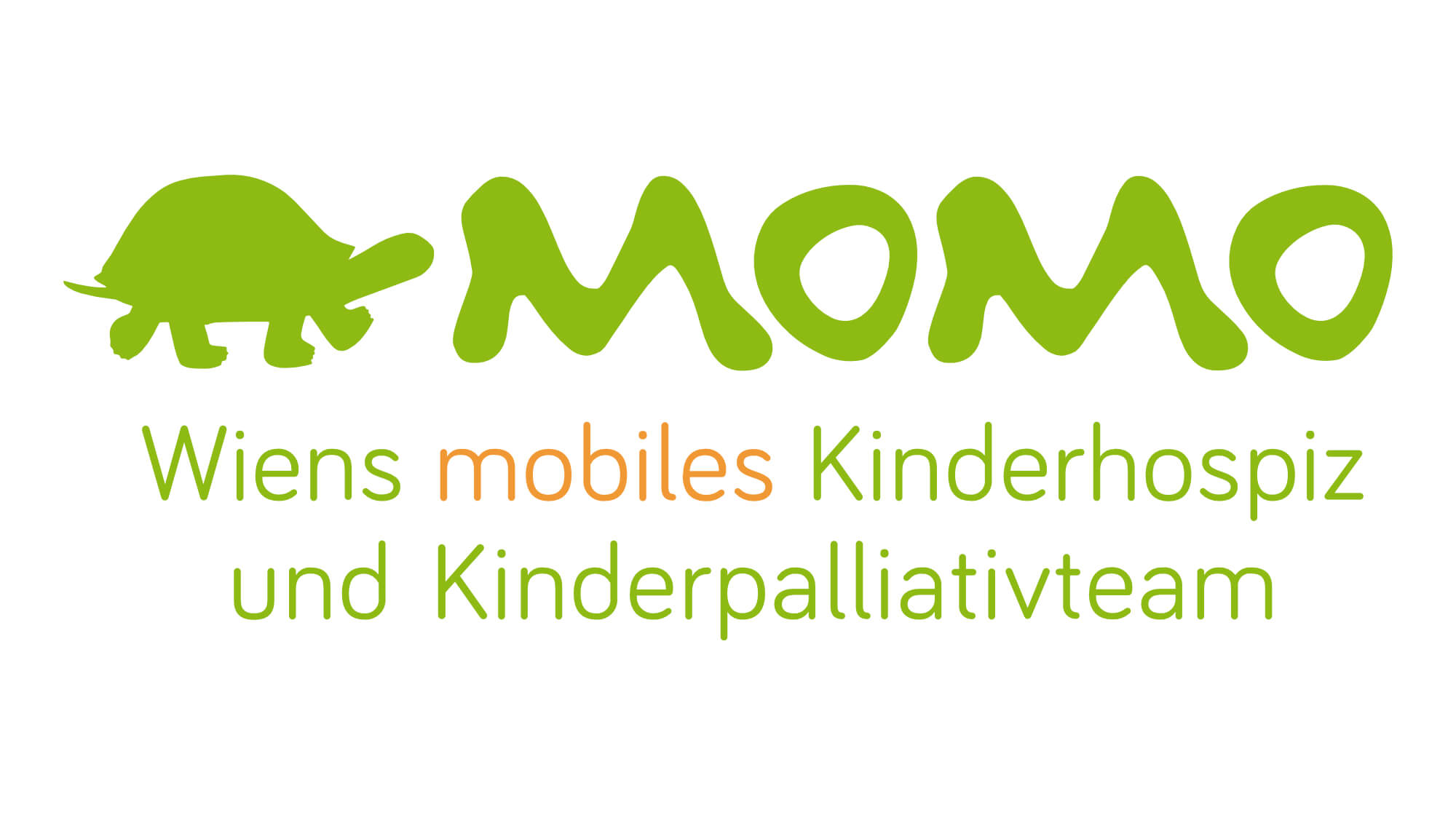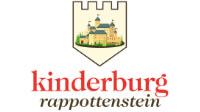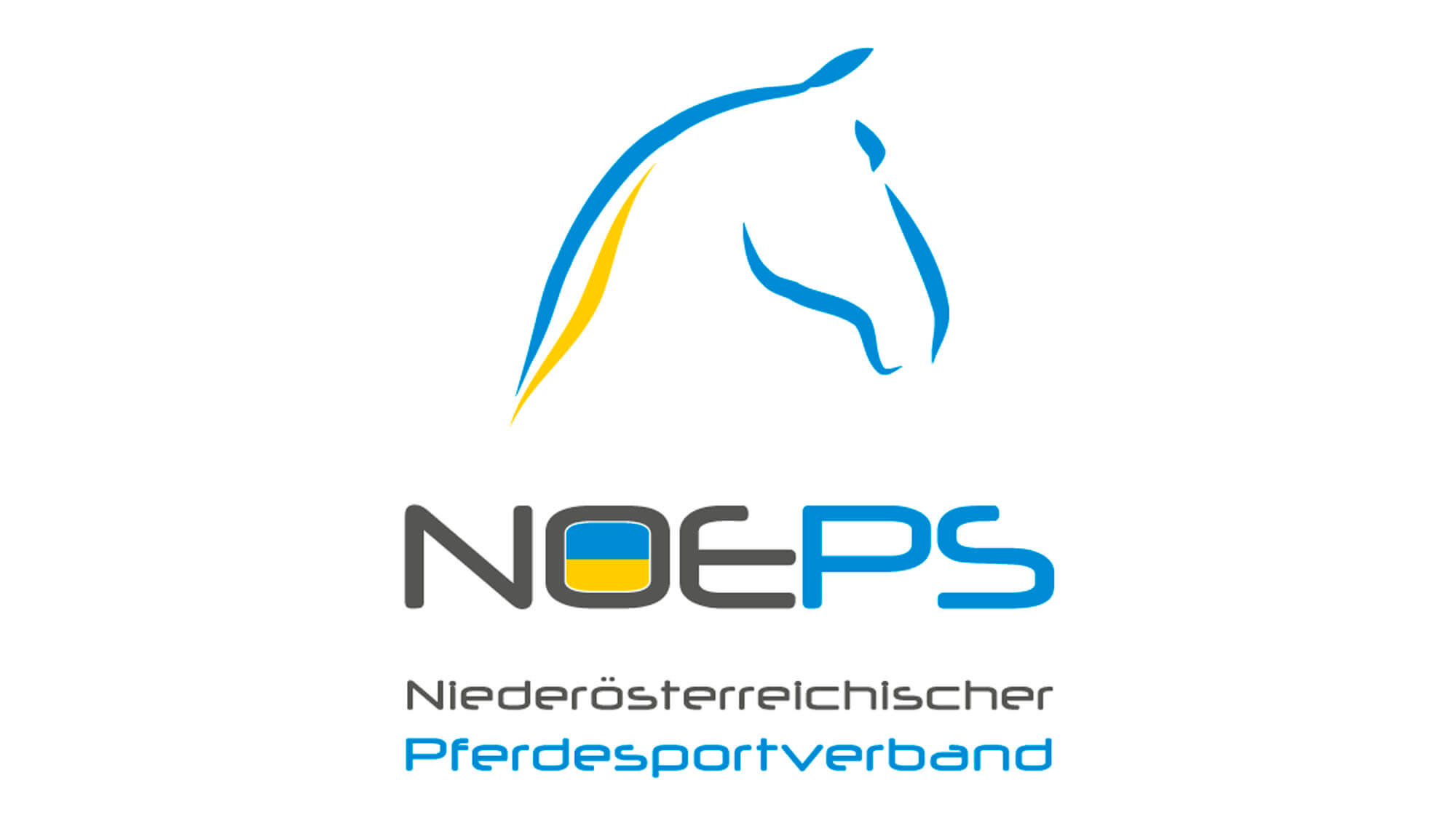 WITHOUT THESE PARTNERS NOTHING WOULD RUN - THANK YOU
With great gratitude, we look forward to their support and help!