Horse assisted trauma therapy
We are incredibly proud that in October 2017 the book by Dr. Karin Hediger and Mag. Roswitha Zink – Equine Assisted Trauma Therapy - in the reinhardt-verlag.de Has been published.
Short text:
Based on scientifically based trauma therapy concepts and the current state of research on horse-assisted work, methods, prerequisites, but also limits and risks of horse-assisted trauma therapy are clearly presented. Using the case study of 16-year-old Hannah and her therapy horse Tamino, the authors provide an insight into horse-assisted trauma therapy. What quality assurance measures are available? Which qualifications of the therapist are important and how can the selection, training and husbandry of the therapy companion horse be optimally successful? The book gives an overview of the effect and implementation of horse-assisted interventions in trauma therapy and thus creates a basis for the further development of this therapy area.
You can find a reading sample here. Click here for our book presentation.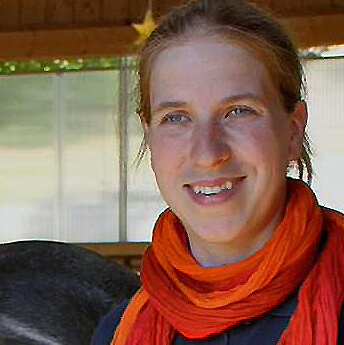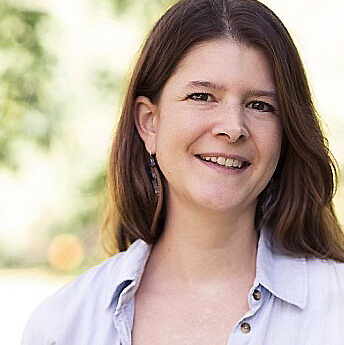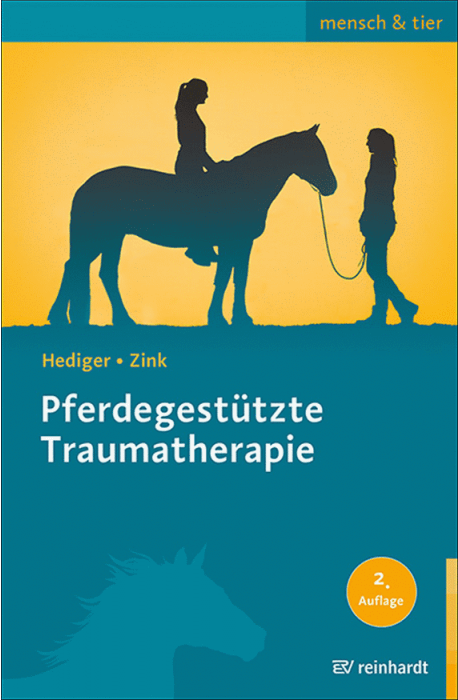 heart rate and heart rate variability
In 2018 we carried out a larger research project: In cooperation with the University of Vienna, the Comparative Medicine department of the Messerli Research Institute of the University of Veterinary Medicine Vienna and the Siegmund Freud University, we dealt with the health-promoting aspects of horse-assisted therapy. The title reads: "They feel your heartbeat! Heart rate, heart rate variability and cortisol release as indicators of synchronization in horse-assisted therapy."
As part of the research project, we looked at the stress-reducing effect of horses and measured the heartbeat and heart rate variability (HRV) as well as the cortisol in the saliva of the therapist, the client and the therapy horse.
We also wanted to look at the synchronization between the three interaction partners. Is there a synchronization in the physiological parameters? Studies in mother-infant interaction research have already demonstrated the effect of coordinated heartbeats. But does it also affect hearts that beat in the same beat in the horse therapy setting?
It was an intensive data collection period with an ingenious research team and super hard-working study participants who didn't let sub-zero temperatures, unpredictable technical challenges and hours to days of almost XNUMX/XNUMX work get you down. On the contrary! The motivation and enthusiasm to discover new secrets of horse therapy was enormous. And the effort paid off, as the evaluation of the results showed:
On the one hand, we were able to show that the integration of horses into the therapeutic setting had a stress-reducing effect on clients. We measured cortisol, heart rate and HRV before and after the therapy session. And we also had a control condition in which no horse was present at the therapy session, only the barrel horse made of wood. After horse contact (as opposed to before) and in the experimental condition with therapy horses (as opposed to barrel horses), cortisol and heart rate were lower and HRV increased. High HRV values ​​indicate a high level of well-being and low cortisol and heart rate values ​​indicate relaxation. Thus, therapy horses have a positive influence on the stress experience and relaxation.
On the other hand, we looked at the synchronization of the heartbeats and found that there is actually coordination between therapy horse, client and therapist. The heartbeats adapt to each other and, interestingly, the adaptation is greater when there has been a relationship between human and horse beforehand and the therapy horse was not alien or unknown.
We have already been able to present the results at many conferences, for example in Dublin, Budapest, New York and Singen, and have found great approval in the horse therapist community. Most people already know from their daily practice that horses have a positive effect on our well-being and help to reduce stress and experience relaxation. Most people also know that relationships are an essential factor in the therapeutic setting. And yet it is important to advance research in this area so that the knowledge that parents, therapy children, therapists, experts, etc. experience in their daily work can also be presented scientifically in order to achieve greater acceptance of horse-assisted therapy.
So we are VERY happy about the exchange on this and other research projects and would like to encourage everyone to get something going themselves!
You can find the first publication on our research project at http://www.uco.es/ucopress/ojs/index.php/pet/article/view/11801
and another article with the importance of the results for practice as well as further research ideas and a lot of literary background is currently in progress.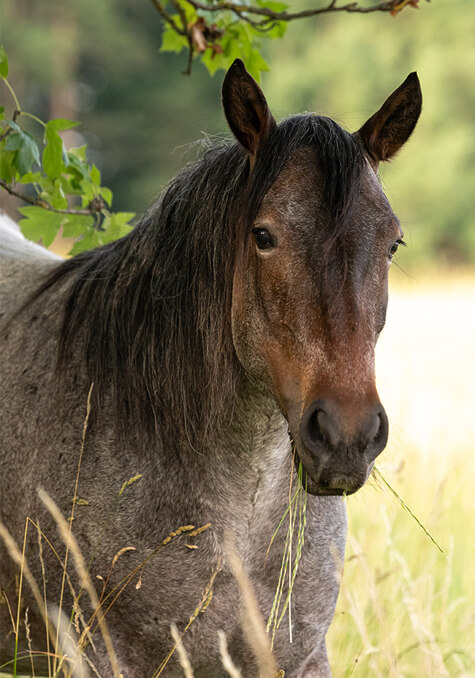 An investigation of the stress response of horses during equine-assisted therapy and subsequent recovery
As part of our research project on heart rate variability and synchronization, Lena Kreuzer, MSc, wrote her master's thesis for the Messerli Research Institute of the University of Veterinary Medicine, Vienna, researching the
Stress Response and Recovery in Therapy Horses:
"My master's thesis on Lichtblickhof had the aim of measuring the physiological stress response of therapy companion horses in order to obtain information on their well-being in the context of equine-assisted work.
In a first experiment, I analyzed the physiological arousal level of four horses during standardized therapy sessions using saliva samples and heart rate data. The horses showed neither an acute stress reaction nor signs of increased relaxation. An increased heart rate and increased concentration of the stress hormone cortisol probably reflected the increased physical exertion of the client on horseback. This classification of therapeutic use as increased exercise rather than a disabling stressor compared to a control condition was based on cortisol concentrations decreasing within a short time after the end of the use and signs of relaxation (ie parasympathetic activity, a parameter of heart rate variability) within the standardized range Unit showed the highest intensity. However, horses working in the standardized unit with less familiar people showed the lowest intensity of these relaxation indicators. Consequently, the intensity of the underlying relationship between the human and the therapy companion horse could be a hitherto underestimated factor on the level of arousal and influence the well-being of the animals within a therapy unit.
In a second experiment, I accompanied the animals in everyday work and analyzed the heart rate and parameters of heart rate variability before and after a therapeutic group session. A persistent influence of the therapeutic use on the heart rate and parameters of heart rate variability beyond the time of the therapy session could be ruled out, since there was no statistically significant difference in the parameters depending on the measurement times or compared to control days.
Overall, the use of the therapy companion horses to the extent of a therapy unit seems to be within the adaptability of the animals and does not cause any acute distress."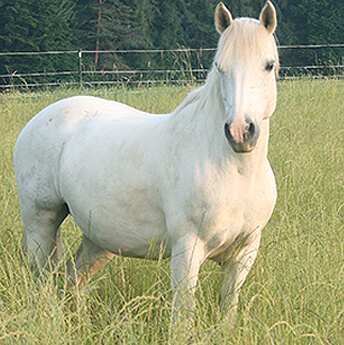 In 2006, under the direction of Univ.-Doz. dr Thomas Stephenson and Mag. Roswitha Zink started a research project: Using video analysis, non-verbal communication between humans and horses was investigated in order to be able to present and explain the mechanisms of action and the potential of equotherapy more precisely.

As part of the preparation of three diploma theses, the following focal points were dealt with:
Psychodynamically oriented diagnostics in equotherapy. Taking into account the client's body language forms of communication in interaction with the horse as an expression of emotional and psychological structures. (Sophie Fischer)

Analogies of non-verbal interaction processes. The mother-infant interaction and the client/client-horse interaction in Equotherapy© with a special focus on affectivity. (Dorothea Gansterer)

The free body language interaction with the horse as a scene. (Karin Poinstingl)
In addition, numerous smaller research projects have been carried out in recent years.
On topics like:
Therapeutic offers for people with disabilities

"Make way!" Self-determination for humans and animals

Collection of offers for therapy with horses

Paradigms in the human-animal relationship

Constructivism and therapy with horses

Resilience and therapy with horses

Equine Assisted Trauma Therapy

In 2005, we were able to win first place in the research prize of the Vienna Animal Welfare Ombudsman for a research project entitled "Paradigms in human-animal relationships".
We are at your disposal for further information if you are interested in our research work. Research and networking with like-minded people is great fun for us and we look forward to an exchange. Unfortunately, our time resources for this are often limited. We are primarily therapists for children and young people in crises and of course the care of the animals must not be neglected, as there is often little time for science. We ask for your understanding that it sometimes takes a little longer to answer inquiries in this regard!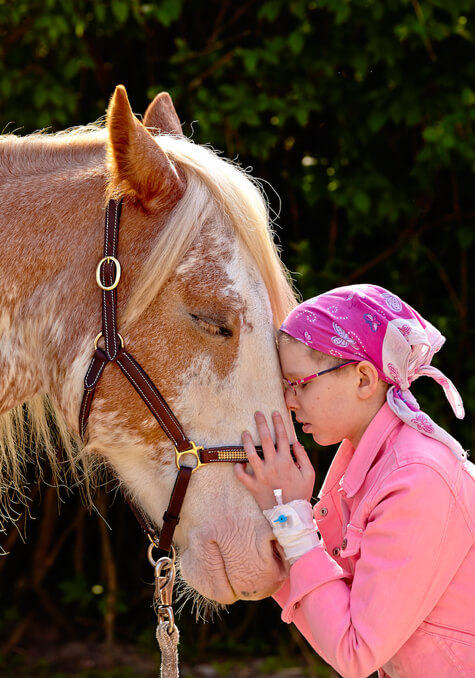 Survey of non-verbal communication patterns
between man and horse using video analysis
https://www.lichtblickhof.at/images/erforschen/nonverbaleKommunikation/gansterer_fischer_poinstingl_forschungsgruppe_equotherapie_2011.pdf
2014 took place on Lichtblickhof a research project in cooperation with the Van Hall Larenstein University of Applied Sciences in Leeuwarden in the Netherlands. Under the title "Who influences whom? – Interaction between client, horse and therapist" Saskia Aust and Ilona van Dongen analyzed the non-verbal interaction as part of the animal management course with a focus on animal-assisted therapy. The aim of the study was to analyze the bilateral influence on body language between horses and clients in free interaction under the guidance of the therapist.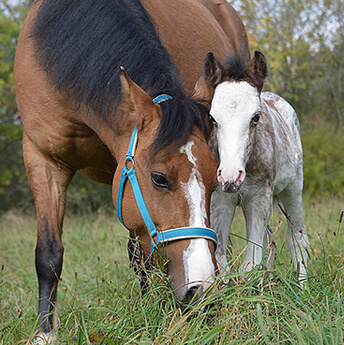 In addition to the therapeutic everyday life with many great and small moments, recharging horse power, giving rays of hope and BEING THERE for children and young people in crises, the scientific approach to the topic of horse therapy is very important to us.
In recent years we have repeatedly carried out smaller research projects, every few years we have formed a research group for larger projects and, fortunately, we are always given the opportunity to give lectures about our work.
Again and again we receive inquiries about pre-scientific work, bachelor's or master's theses and related research projects. If it is possible, we have a research project ourselves and it is a topic that we can research, we would be happy to cooperate with you. We ask you to contact us in this regard, but we cannot promise anything in advance!